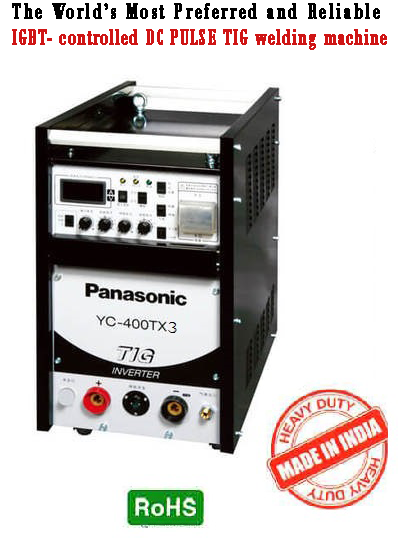 Key features of 400TX3
---
Higher weld stability
High power IGBT components in the main circuit ensure smooth output wave-form resulting in greater arc stability even at 4A output current.
Spot welding functionality
During argon spot welding, TX3 offers pre-setting of spot current and time.
Excellent manual welding performance
Stepless regulation of arc force current reduces issues of stick adhesion, arc break and excessive spatter during welding.
Reliability even in rugged environments
Dustproof and superior waterproof design for greater endurance.
More efficient cooling.
Complies with IP23 enclosure class.
Easy-to-assemble connectors
Remote operation is possible.
Compatible with TIG Mate
In conjunction with TIG Mate, automatic TIG welding is possible.
Unique design of three layer and four room dust-free structure.
Superior wave-form control to meet diverse welding needs
Middle frequency pulse control (10-500Hz).
Good arc stiffness and concentration.
Welding of heat-sensitive metals such as titanium and stainless-steel, and ultra-thin plates.
Low and mid-frequency pulse control (0.5-30Hz).
For all-position welding of mid/thin plat es and pipes made of various metals (except aluminum, magnesium and their alloys).
Stepless adjustment of pulse current, frequency, width and base current.
Initial current control and crater current control improves bead quality during arc start and crater stages.
Greater safety features
The possibility of electric shocks due to moisture or working in cramped spaces or contact with metal surfaces etc. is greatly reduced.